University of Chile
University of Chile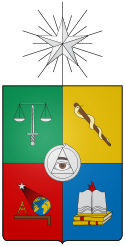 The University of Chile (Spanish: Universidad de Chile) is a public research university in Santiago, Chile. It is the oldest and most prestigious university in the country, and is consistently ranked among the top universities in Latin America.
The history of the University of Chile can be traced back to the colonial era. In 1738, the Spanish Crown established the Royal University of San Felipe (Real Universidad de San Felipe), which was the first university in Chile. The Royal University of San Felipe offered a limited number of programs, primarily in law, theology, and medicine.
After Chile gained independence from Spain in 1818, the new government decided to reform the university system. In 1842, the government founded the University of Chile, which was intended to be a modern, secular university that would provide Chile with the education it needed to develop into a modern nation.
The University of Chile was founded on the principles of academic freedom and autonomy. The university's first rector, Andrés Bello, was a Venezuelan humanist and jurist who was a strong advocate for education and reform. Bello envisioned the University of Chile as a center of excellence in education and research, and he worked tirelessly to make his vision a reality.
Under Bello's leadership, the University of Chile expanded its curriculum and began to offer programs in a wide range of fields, including the arts, sciences, humanities, and social sciences. The university also attracted a number of distinguished faculty members from around the world.
In the late 19th and early 20th centuries, the University of Chile played a leading role in Chile's modernization and development. The university's graduates were active in all aspects of Chilean society, and they played a key role in shaping the country's political, economic, and cultural life.
The University of Chile has also played a significant role in Chile's social and political struggles. The university has been a vocal critic of authoritarian regimes, and it has been a major force for democracy and social justice in Chile.
The University of Chile is a vibrant and dynamic institution that is committed to excellence in education, research, and culture. It is a major force for good in Chile and the world.
Based on the QS World University Rankings of 2023, University of Chile is positioned as the #167 top university in the world, which makes it the #2 top university in Chile. The university's global rank is improved by 16 points from last year.
University Profile
| | |
| --- | --- |
| Ranking | #2 |
| University Name | University of Chile |
| Name in Local Language | Universidad de Chile |
| Acronym | UC |
| Year Established | 1842 |
| Motto | Una universidad cuyo norte sea Chile y las necesidades de su pueblo |
Contact
Address

Avenida Libertador Bernardo O'Higgins Nº 1058

,

Santiago

,

Región Metropolitana

,

Chile

Phone
+56 (2) 978 2000
Fax
+56 (2) 978 2117
Website
Email
Click here to send email
More Links
Programs and Courses
| | | | | |
| --- | --- | --- | --- | --- |
| | Bachelor's Degrees | Master's Degrees | Doctorate Degrees | Diplomas |
| Arts & Humanities | n/a | | | n/a |
| Business & Social Sciences | n/a | | | n/a |
| Engineering | n/a | n/a | | n/a |
| Language & Cultural Studies | n/a | | | n/a |
| Medicine & Health | n/a | | | |
| Science & Technology | n/a | | | |
Click the following button to see a list of programs and courses offered by University of Chile.
View Course List
Admission Info
Find information below on admission to University of Chile.
| | |
| --- | --- |
| Student Body | Men and Women |
| Admission Info | Click here |
Scholarship and Financial Aids
There is no information found on scholarships or financial aids offered by University of Chile. You may like to visit their website for more details.
Report Incorrect Information