The University of Melbourne
The University of Melbourne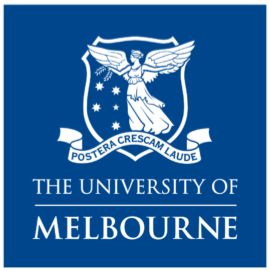 The University of Melbourne, located in Australia, is a prestigious institution renowned for its excellence in education, research, and innovation. Established in 1853, it is consistently ranked among the top universities globally. With a rich history and a diverse student body, the University of Melbourne offers a vibrant academic environment and a wide range of programs across various disciplines, including arts, sciences, business, engineering, and medicine. The university is known for its commitment to intellectual curiosity, critical thinking, and fostering creativity among its students.
Based on the QS World University Ranking of 2023, The University of Melbourne is positioned as the #33 top university in the world, which makes it the #2 top university in Australia. The university's global rank is improved by 4 points from last year.
University Profile
Ranking

#33

#2

University Name
The University of Melbourne
Acronym
UNIMELB
Year Established
1853
Motto
Postera Crescam Laude
Motto in English
We grow in the esteem of future generations
Contact
Address

Grattan Street

,

Melbourne

,

Victoria

,

Australia

Phone
+61 (0)3 9035 5511
Fax
+61 (0)3 8344 5104
Website
Email
Click here to send email
More Links
Admission Info
To gain admission to the University of Melbourne, applicants need to meet certain requirements and go through a competitive selection process. Admission requirements vary depending on the program of study, but generally, applicants are assessed based on their academic achievements, including previous qualifications, grades, and English language proficiency. Additionally, applicants may need to submit personal statements, and references, and undertake interviews or entrance exams for specific programs. The university considers the overall profile of the applicant, taking into account their academic potential, achievements, and relevant experiences.
| | |
| --- | --- |
| International Students Allowed | Yes |
| Student Body | Men and Women |
| Admission Info | Click here |
Scholarship and Financial Aids
The University of Melbourne offers a range of scholarships to support and recognize the achievements of deserving students. These scholarships are available for both domestic and international students across various fields of study. Some of the scholarships provided include merit-based scholarships, which reward academic excellence, as well as scholarships based on specific criteria such as leadership, community engagement, and diversity. Additionally, there are scholarships for research programs, postgraduate studies, and financial assistance programs to support students in need. The university encourages eligible students to explore scholarship opportunities and apply accordingly, as these scholarships can provide valuable financial support and enhance the overall university experience.
Related Articles
Following is a list of 2 article(s) related to The University of Melbourne or higher education systems of Australia.
The Group of Eight (Go8) is a coalition of Australia's leading research-intensive universities. The group comprises eight universities, which are the University of Melbourne, the Australian National University, the University of Sydney, the University of Queensland, the University of Western Australia, the University of Adelaide, Monash University, and UNSW Sydney. They are known for their academic excellence, research output, and strong international reputation.
[Read More]
If you have planned and prepared yourself to migrate to Australia for studies, tips in this article will help make your life easier in an Australian university as an international student.
[Read More]
Report Incorrect Information
Information on The University of Melbourne was last updated on May 22, 2023.