University of Dhaka
University of Dhaka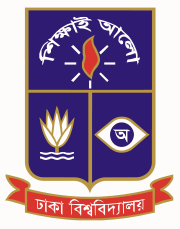 The University of Dhaka (DU) is a prestigious public university located in Dhaka, the capital city of Bangladesh. It is the oldest and largest university in Bangladesh and is considered to be one of the most prominent academic institutions in South Asia. The university offers undergraduate and postgraduate degrees in various fields, including science, engineering, arts, social sciences, and business studies. With a sprawling campus that spans over 600 acres, the University of Dhaka is home to more than 45,000 students and 1,800 faculty members. The university has a long and rich history of academic excellence and has produced numerous accomplished alumni who have gone on to become leaders in their respective fields. Today, the University of Dhaka continues to be a beacon of academic excellence, attracting students and scholars from all over the world.
The University of Dhaka was founded in 1921 as compensation for the annulment of the 1905 Partition of Bengal. Nawab Bahadur Sir Khwaja Salimullah donated 600 acres of land from his estate for this purpose. The university is modeled after British universities and started its academic activities on 1 July 1921 with three faculties: Arts, Science, and Law.
The University of Dhaka played a pivotal role in the Bengali Language Movement of 1952. DU students and teachers were at the forefront of the movement, demanding that Bengali be given equal status to Urdu as an official language of Pakistan.
On February 21, 1952, DU students organized a mass protest against the Pakistani government's decision to impose Urdu as the sole official language of Pakistan. The police opened fire on the protesters, killing several students. This incident sparked widespread protests and demonstrations across East Bengal (now Bangladesh).
DU students and teachers continued to lead the Language Movement until the Pakistani government finally conceded to their demands in 1956. The Language Movement was a major turning point in the history of Bangladesh and paved the way for the country's independence in 1971.
Student life at the University of Dhaka (DU) is a vibrant and enriching experience. DU is one of the largest universities in South Asia. The campus is a melting pot of cultures and religions, and students have the opportunity to learn and grow in a diverse and inclusive environment.
Academics are at the core of student life at DU. The university offers a wide range of undergraduate and postgraduate programs in a variety of disciplines. DU is known for its high academic standards and its faculty members are among the best in the country.
In addition to academics, DU students are also involved in a wide range of extracurricular activities. There are over 200 student clubs and societies at DU, covering a wide range of interests, including sports, culture, music, art, and social service. DU students also have the opportunity to participate in research and internships, and to volunteer for various social causes.
University of Dhaka is ranked as the #1 top university in Bangladesh during 2023. The rank is improved by 1 point from last year.
University Profile
| | |
| --- | --- |
| Ranking | #1 |
| University Name | University of Dhaka |
| Name in Local Language | ঢাকা বিশ্ববিদ্যালয় |
| Acronym | DU |
| Year Established | 1921 |
| Motto | শিক্ষাই আলো |
| Motto in English | Education is light |
Contact
Address

Ramna

,

Dhaka

,

Dhaka

,

Bangladesh

Phone
+880 (2) 966 1900
Fax
+880 (2) 861 5583
Website
Email
Click here to send email
More Links
Programs and Courses
| | | | | |
| --- | --- | --- | --- | --- |
| | Bachelor's Degrees | Master's Degrees | Doctorate Degrees | Diplomas |
| Arts & Humanities | | | | n/a |
| Business & Social Sciences | | | | n/a |
| Engineering | | n/a | n/a | n/a |
| Language & Cultural Studies | | n/a | n/a | n/a |
| Medicine & Health | | | | |
| Science & Technology | | | | |
Click the following button to see a list of programs and courses offered by University of Dhaka.
View Course List
Admission Info
The admission process to the University of Dhaka, Bangladesh, varies depending on the level of study and the specific program. Here is an overview of the general admission process:

1. The admission process typically begins with the release of the admission circular on the university's website or in national newspapers.

2. Prospective students must fill out the application form and pay the application fee.

3. Applicants are then required to take an admission test, which is typically held on the university campus or in designated test centers 4. throughout the country. The admission test format and subjects can vary depending on the program.

4. After the admission test, a merit list is published, which lists the candidates who have been selected for admission based on their test results.

5. Selected candidates must then complete the admission process, which includes submitting academic transcripts, certificates, and other required documents.

It's important to note that the admission process and requirements can vary depending on the program and the level of study. Prospective students should carefully review the admission circular and other relevant information provided by the university for specific requirements and deadlines.
| | |
| --- | --- |
| International Students Allowed | Yes |
| Student Body | Men and Women |
Scholarship and Financial Aids
The University of Dhaka in Bangladesh offers various scholarships to its students. Here are a few examples:

1. University of Dhaka Scholarship: This scholarship is offered to meritorious students of the university who have secured top positions in their respective classes.

2. Dr. Muhammad Shahidullah Scholarship: This scholarship is offered to financially disadvantaged students who are studying in the Department of Bengali.

3. Kazi Mahbub Uddin Ahmed Scholarship: This scholarship is offered to students of the Department of Finance who have a good academic record and are in need of financial assistance.

4. Dhaka University Teachers Association Scholarship: This scholarship is offered to the children of the teachers of the University of Dhaka who are studying in any department of the university.

These are just a few examples of the scholarships offered by the University of Dhaka. There are several other scholarships offered by the university, and you can visit their official website or contact their scholarship office for more information.
Related Articles
Following is a list of 1 article(s) related to University of Dhaka or higher education systems of Bangladesh.
Higher education in Bangladesh has progressed significantly in recent years with a greater emphasis placed on its development. While the country has many reputable universities, there are still challenges faced by students, such as the quality of education and the high cost of tuition.
[Read More]
Report Incorrect Information