National University of Malaysia
National University of Malaysia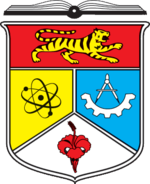 Welcome to the National University of Malaysia, commonly known as Universiti Kebangsaan Malaysia (UKM), a prestigious institution at the forefront of higher education and research in Malaysia. Established in 1970, UKM holds the distinction of being the nation's first university founded with the primary goal of promoting the use of the national language, Bahasa Malaysia, as the medium of instruction. Through its commitment to nurturing a diverse and inclusive learning environment, UKM has emerged as a symbol of cultural unity and academic excellence.
Situated in Bangi, Selangor, UKM's sprawling campus provides an idyllic setting for academic pursuits and personal growth. The university offers a comprehensive array of academic programs spanning various fields, including social sciences, natural sciences, engineering, medicine, and humanities, ensuring that students have ample opportunities to pursue their passions and shape their futures. Emphasizing a research-driven approach, UKM encourages its students and faculty to engage in innovative research that addresses real-world challenges and contributes to the advancement of knowledge. With its dedication to producing well-rounded graduates equipped with critical thinking skills and a deep appreciation for cultural heritage, the National University of Malaysia continues to play a vital role in shaping Malaysia's intellectual landscape and fostering national pride.
Based on the QS World University Ranking of 2023, National University of Malaysia is positioned as the #129 top university in the world, which makes it the #3 top university in Malaysia. The university's global rank is improved by 15 points from last year.
University Profile
| | |
| --- | --- |
| Ranking | #3 |
| University Name | National University of Malaysia |
| Name in Local Language | Universiti Kebangsaan Malaysia |
| Acronym | UKM |
| Year Established | 1970 |
| Motto | Ilmu Memimpin |
| Motto in English | Knowledge Guides |
Contact
Address

UKM

,

Bangi

,

Selangor

,

Malaysia

Phone
+603-8921-5555
Fax
+603-8921-4097
Website
More Links
Programs and Courses
| | | | | |
| --- | --- | --- | --- | --- |
| | Bachelor's Degrees | Master's Degrees | Doctorate Degrees | Diplomas |
| Arts & Humanities | n/a | | | n/a |
| Business & Social Sciences | | | | n/a |
| Engineering | | | | n/a |
| Language & Cultural Studies | n/a | n/a | n/a | n/a |
| Medicine & Health | n/a | n/a | n/a | n/a |
| Science & Technology | | | | n/a |
Click the following button to see a list of programs and courses offered by National University of Malaysia.
View Course List
Admission Info
Find information below on admission to National University of Malaysia.
| | |
| --- | --- |
| Student Body | Men and Women |
| Undergraduate Admission Info | Click here |
| Graduate Admission Info | Click here |
Scholarship and Financial Aids
There is no information found on scholarships or financial aids offered by National University of Malaysia. You may like to visit their website for more details.
Related Articles
Following is a list of 3 article(s) related to National University of Malaysia or higher education systems of Malaysia.
Malaysia is a popular destination for international students due to its high-quality education, affordable tuition fees, and warm and welcoming culture. There are also many scholarships available to international students, making it possible to study in Malaysia without breaking the bank. This article provides a guide to scholarships in Malaysia for international students. It covers government scholarships, university scholarships, and other financial aid options.
[Read More]
The University and College Admissions System (UPU) Online program is an initiative introduced by the Malaysian government to simplify the process of applying for higher education institutions in Malaysia. This program provides a centralized platform for students to apply for undergraduate courses in local universities and colleges. Learn how UPU Online helps students and what they need to consider before applying.
[Read More]
Irrespective of what you are studying, or the duration of your degree, you will gain lots of facilities in your chosen institution. This includes an extensive library, convenience stores, 24- hour computer access, state-of-the-art laboratories, a sports complex, a fitness center, a café, a bookshop, tennis courts, a swimming pool, a health center, a student Association complex, and so on.
[Read More]
Report Incorrect Information