Barkatullah University
Barkatullah University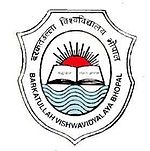 Barkatullah University
(BU) is located in Bhopal, Madhya Pradesh, India. The university was established in 1970. It is accredited by University Grants Commission, India.
University Profile
| | |
| --- | --- |
| University Name | Barkatullah University |
| Acronym | BU |
| Year Established | 1970 |
Contact
Admission Info
Find information below on admission to Barkatullah University.
| | |
| --- | --- |
| International Students Allowed | Yes |
| Student Body | Men and Women |
| Admission Info | Click here |
Scholarship and Financial Aids
There is no information found on scholarships or financial aids offered by Barkatullah University. You may like to visit their website for more details.
Related Articles
Following is a list of 2 article(s) related to Barkatullah University or higher education systems of India.
For COVID-19, lockdown in India was implemented on March 25, 2020, affecting the school system in the country. The traditional education system has been transformed into a technological model by using educational technology to educate and assess students remotely. Teachers in India confront a variety of challenges while educating and evaluating students over the Internet.
[Read More]
Find details on the top 10 universities in India, a popular destination of South Asian students for higher education.
[Read More]
Report Incorrect Information