Cornell University
Cornell University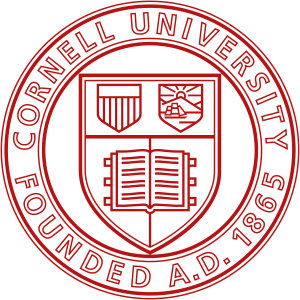 Cornell University is a private Ivy League research university located in Ithaca, New York, USA. Founded in 1865, Cornell is widely regarded as one of the top universities in the world, consistently ranking among the top 20 in various international and national rankings. The university is known for its exceptional programs in various fields, including business, engineering, computer science, agriculture, and the life sciences, among others. Cornell's campus covers more than 2,300 acres and is home to more than 23,000 students, including approximately 15,000 undergraduates and 8,000 graduate and professional students. Cornell is also renowned for its commitment to public service and engagement, and its faculty and alumni have made significant contributions to various fields, including science, politics, and the arts.
Based on the QS World University Rankings of 2023, Cornell University is positioned as the #20 top university in the world, which makes it the #9 top university in United States. The university's global rank is improved by 1 point from last year.
University Profile
Ranking

#13

#7

University Name
Cornell University
Year Established
1865
Motto
I would found an institution where any person can find instruction in any study
Colors
Carnelian and white
Contact
Address

Day Hall Lobby

,

Ithaca

,

New York

,

United States

Phone
+1 (607) 254 4636
Fax
+1 (607) 254 6225
Website
Email
Click here to send email
More Links
Programs and Courses
| | | | | |
| --- | --- | --- | --- | --- |
| | Bachelor's Degrees | Master's Degrees | Doctorate Degrees | Diplomas |
| Arts & Humanities | n/a | | | n/a |
| Business & Social Sciences | n/a | | | n/a |
| Engineering | n/a | | | n/a |
| Language & Cultural Studies | n/a | | | n/a |
| Medicine & Health | n/a | | | n/a |
| Science & Technology | n/a | | | n/a |
Click the following button to see a list of programs and courses offered by Cornell University.
View Course List
Admission Info
The admission requirements for Cornell University vary depending on the program and level of study. For undergraduate admissions, applicants must submit high school transcripts, standardized test scores (either the SAT or ACT), and other application materials such as essays, letters of recommendation, and a resume. For graduate and professional programs, admission requirements typically include a completed bachelor's degree or its equivalent, transcripts, standardized test scores (such as the GRE, GMAT, or LSAT), letters of recommendation, and a statement of purpose. Additionally, international applicants may be required to submit English language proficiency test scores, such as TOEFL or IELTS. Admissions decisions at Cornell are highly competitive, and the university considers a range of factors beyond academic credentials, including extracurricular activities, leadership experience, and demonstrated interest in the field of study.
| | |
| --- | --- |
| International Students Allowed | Yes |
| Student Body | Men and Women |
Scholarship and Financial Aids
Cornell University offers a variety of scholarships to both undergraduate and graduate students. These scholarships are awarded based on a range of criteria, including academic merit, financial need, and other factors. One of the most prestigious undergraduate scholarship programs at Cornell is the Cornell Presidential Research Scholars (PRS) program, which provides selected students with funding to conduct independent research under the guidance of a faculty mentor. Another notable scholarship program is the Meinig Family Cornell National Scholars program, which provides full-tuition scholarships to exceptional students from across the United States. For graduate students, Cornell offers a range of fellowships and assistantships, including the Graduate School Fellowship, which supports students in their first year of graduate study, and the Cornell University Graduate Research Fellowship, which provides funding for advanced graduate students conducting research in specific fields. Additionally, Cornell offers a number of scholarships specifically for international students, including the Tata Scholarship and the Frank H.T. Rhodes Global Scholarships, which provide funding to students from developing countries.
Related Articles
Following is a list of 5 article(s) related to Cornell University or higher education systems of United States.
Report Incorrect Information