Georgia Institute of Technology
Georgia Institute of Technology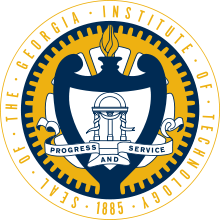 Georgia Institute of Technology is also called Georgia Tech, GT, and Tech. It is located in Atlanta, Georgia, USA. Its 21,000+ students can choose majors in many fields, including Architecture, Computing, Business, Engineering, Liberal Arts, and Sciences.
During Reconstruction after the Civil War in the United States, a technology school was proposed for Georgia. They needed technology to help them in competing with the industrial revolution in the North. The school originally opened in 1888 and had only two buildings. Today, it is a large school, having even gained some construction that was done for the 1996 Atlanta Olympics.
Based on the QS World University Ranking of 2023, Georgia Institute of Technology is positioned as the #88 top university in the world. This is the same rank as last year.
University Profile
| | |
| --- | --- |
| Ranking | #88 |
| University Name | Georgia Institute of Technology |
| Acronym | GT |
| Year Established | 1885 |
| Motto | Progress and Service |
| Colors | White, Old Gold |
Contact
Address

225 North Avenue

,

Atlanta

,

Georgia

,

United States

Phone
+1 (404) 894 2000
Website
Email
Click here to send email
More Links
Admission Info
Find information below on admission to Georgia Institute of Technology.
Scholarship and Financial Aids
Click on the following links to get information on scholarships and/or financial aids offered by Georgia Institute of Technology.
Related Articles
Following is a list of 5 article(s) related to Georgia Institute of Technology or higher education systems of United States.
Report Incorrect Information